THE SHAWL
---
The Shawl, a joint release by Velvet Blue Music and Spune, released 18 December 2008.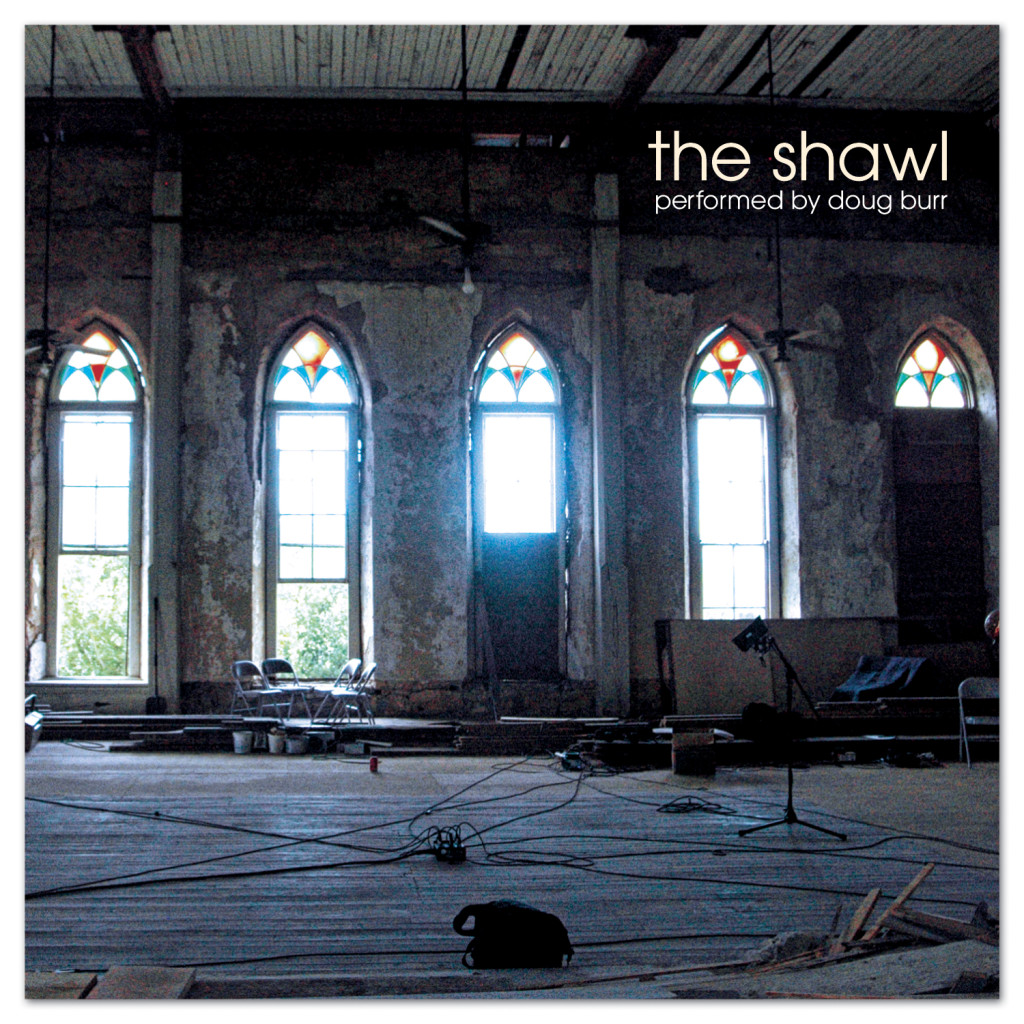 The Shawl, takes its name from the prayer shawls Jews wear to remind them of the Lord's commandments, and all nine songs are settings of ancient Psalms. The theme of memory is as central to the album as to the Psalms themselves, which again and again call the Israelites to remember God's faithfulness, both as comfort and admonishment. Burr's spare, evocative arrangements are a welcome reminder that the Psalms were meant to be sung—and that their images and emotions resonate in every century. Burr is a gifted songwriter, and these ambitious settings give a fair shake to the daunting material, sometimes making use of meditative repetition, sometimes irresistible melody, always giving due weight to the timeless and beloved language. Throughout, Burr's voice and guitar convey a sense of focused passion, of emotion channeled into an ancient form. The album was recorded over twenty-seven hours in the hauntingly dilapidated, chapel-like Texas Hall at the Old Trinity University in Tehuacana (the liner notes include gorgeous photos), and the space sets a particular and pervasive tone that lends a consistent feel to all nine tracks. The setting usually remains a silent backdrop, except when birdsong filters onto certain tracks—a centuries-old image of our smallness before God, and his care for us. …
-Image Journal

…In June of 2008, he and a group of musicians met at Texas Hall in Tehuacana, a partly dilapidated structure that had been built in the late 1800s to house Trinity University. It had seen many years of use, slowly suffering the same fate as every other human thing: that of deterioration. The photograph on the album's cover tells much of its story: peeling paint, boarded windows, broken floorboards. But there is light, a powerful white light bursting through the windows. And there is life. It's in the bitter, terrifying, triumphant words of the psalms, and in the heartbreaking delivery of Doug Burr, as he embodies the cries of the broken. …
-Let Us Make A Record
Since a fortnight from today this album has found itself a comfortable place in my library. After winning high praise with the release of his second full length 'On Promenade', the Texan songwriter buckled down to one of his side-projects, namely the scoring of 9 texts excerpt from the Psalms of King David!

"This will be a collection of mellow, melancholy, but beatiful tunes, ones that I feel have a universal power to move people…because there's just something about the Psalms. They're unflinching in their honesty and ache. "

Obviously The Shawl won't be to everybody's liking. So, as to give you an objective point of view, reminding you of my atheism: I stand in awe as well as I am perplexed ! …
-You Crazy Dreamers
Available here:
iTunes
CDBaby
Amazon
Sample this record on >> Bandcamp
This record was recorded on location at Texas Hall, Tehuacana, TX in twenty-seven hours.
Track Listing:
1. I Am Weary With My Sighing
2. God Is Known in Judah
3. Surely God Is Good to Israel
4. A Thousand May Fall
5. The Righteous Will Rejoice
6. And We Will Be Saved
7. My Voice Rises to God
8. Which We Have Heard and Known
9. In the Lord I Take Refuge
Credits:
*The Band*
Doug Burr: Acoustic Guitar, Vocals
Steve Collins: Baritone Guitar, Mando Guitar
Joel Dennis: Bass
Glen Farris: Wurlitzer, Bells, Electric Guitar
Mark Moncrieff: Fiddle
Todd Pertll: Pedal Steel, Banjo, Accordion, Weissenborn
Dave Sims: Electric Guitar
Todd Unruh: Drums, Percussion, Bells, Pump Organ
————————————————
*The Choir*
Steve Collins, Josh Pearson, Emil Rapstein, Chelsea Callahan, Joel Dennis, Glen Farris
Lyrics, Common Domain
Melodies and Music by Doug Burr, Woven Wings Publishing, ASCAP
Copyright 2008, all rights reserved
————————————————
The Shawl was recorded on location at Texas Hall, Tehuacana, TX
Produced by Britton Beisenherz and Doug Burr
Engineered by Britton Beisenherz and Christopher Dye
Mixed by Britton Beisenherz at Ramble Creek Studio, Austin, TX
Mastered by Jim Wilson at Airshow Mastering, Boulder, CO
————————————————
Photography by Brandon Lesley
Artwork by Brandon Lesley
Cat. # VBM 123 / SP 005