NEWS
---
June 7th, 2016
Excited to announce "Country Girls In City Dresses" – the new single releases digitally on June 17th. A big thank you to KXT 91.7FM, for spinning this song for us. "Country Girls In City Dresses" was recorded as part of the Pale White Dove sessions at Ramble Creek Studio in Austin in 2015, originally intended to release as part of Pale White Dove. However, thematically it seemed too big a divergence from the rest of the Pale White Dove songs, so we decided it needed to be released separately. Our good friend, Kimberly Alexander of Dallas, TX gave us permission to use some of her lovely original artwork for our cover. And Claire Moralis of Denton, TX applied a hand-painted title. This release also contains a b-side original track titled, "Under the Mirror Ball", never before released on a Doug Burr record. This track is a song I wrote years ago for my old band, The Lonelies, but this version was recorded in Denton at EchoLab in 2009.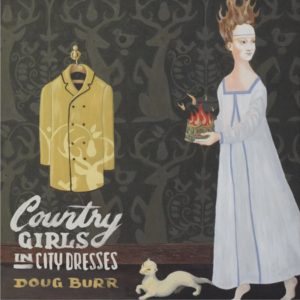 ---
January 3, 2016
Word drifted in over the past couple weeks that Pale White Dove made a few noteworthy "Best Of 2015" lists. Thanks to all these magazine's/organizations for the love they showed this album:
– Texas Music Magazine, 2015 Albums of the Year
– Best of KXT, Listener-Voted as the #2 for 2015 Favorite Local Albums
– Fort Worth Star Telegram / DFW.com – tied for #1 Best of 2015 with Leon Bridges
– Holiday at the Sea blog names as one of the favorites of 2015
---
November 20, 2015
An extended version of Pale White Dove, entitled, Pale White Dove Deluxe, will release on December 4th. It will only be available digitally. You can pre-order on iTunes now, and get one unreleased track immediately. This version of the record includes all original studio tracks and the solo demo version of each track. Merry Christmas!
You can pre-order here:
Pale White Dove Deluxe on iTunes
---
April 29, 2015
We are grateful to Stereo Subversion for premiering the music video of "When the Arrow Hits the Sparrow" … and also offering up a really nice write-up in the process:
If you're familiar with the work of Doug Burr, then you know the categories that hold his music also hold a weight to them. His music is certainly classifiable yet there's a substantive approach rarely seen with most artists, a concern with weightier matters than the typical song cycles about love and loss. It's not that Doug doesn't explore such matters; rather he writes about them in ways that graciously reframes your worldview.
---
April 21, 2015
Video for "When the Arrow Hits the Sparrow" coming soon!
---
April 14, 2015:
A really kind review/interview from The Dallas Observer.
So, here we are in 2015, five years removed from Burr's last full-length, and finally, Pale White Dove arrived last week via Velvet Blue Music. In what might be the least surprising musical development in North Texas of the year thus far, the new album is a pure stunner from beginning to end.
---
April 1, 2015 (no joke):
Pale White Dove is coming…video by Jon Collins.
---
March 29, 2015:
A review drifting in on the heels of our SXSW show from Hear Ya blog. Glad to have turned a couple heads:
I walked a half-mile in the wrong direction to catch a set by Doug Burr based on this one track below. Sadly, I had never heard of Doug Burr prior. But it didn't take long for him to win me over. The set I caught was full of punch and had I was telling people I met later that might that it was great set of rousing alt-country. It had an element of an outlaw American to it. For what it's worth I was a wee bit drunk and based on this PR info, I'd be lazy calling his music Americana.
---
March 27, 2015:
Artist Direct premieres music video for "White Night – Black Light"!
---
February 26, 2015:
A  great review, by Operation Every Band blog, anticipating our SXSW 2015 set:
The best ever folk artist out of Denton is Doug Burr and he has a new full-length due this April, Pale White Dove, the first proper record since 2010's excellent O Ye Devastator.  …Pale White Dove is decidedly the most electric of Burr's catalog, a chance to accompany his songwriting with reverb-grit ("Revolution Son Blues", single "White Night / Black Light") and alt country beauty ("I Love To Hate You").
---
January 29, 2015:
White Night - Black Light vinyl 7" single releases 3/10.

 includes B-side cut, and bonus digital track.

Pale White Dove (full length album) releases 4/07.